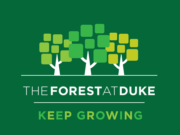 Do you provide health insurance for employees?Yes
Do you provide benefits to employees?Yes
Do you hold regular meetings with employees?Yes
Does your company promote within?Yes
Does your company pay above minimum wage and/or possible overtime?Yes
Does your company provide on the job continuous training?Yes
Does your company provide uniforms for employeesYes
Has your company been in business for more than 3 years?Yes
Does your company offer flexible scheduling?Yes
Do your provide staff meals or discounted meals?Yes
About The Forest at Duke
Internationally accredited by CARF/CCAC, Fitch rated, and neighbor to the Duke University campus and medical center, The Forest at Duke is a vibrant, not-for-profit 501(c)3 continuing care retirement community. Over 800 residents from 38 different states have chosen to call The Forest home since it's opening in 1992.  
Today, 400 people enjoy life at The Forest and over 250 team members are an integral part of their lives. Residents are professors, gardeners, authors, CEOs, community volunteers, opera buffs, engineers, librarians, homemakers, artists - folks from all walks of life who embrace and celebrate the rich dimensions of their diversity.  A passion for personal growth, along with comfort, security and peace of mind drew them here.  Freedom to live life confidently and to the fullest is what they've found.
Our mission is to provide a caring, responsible community that fosters the independence of residents of retirement age by enhancing their ability to lead purposeful, active, healthy and secure lives.
Jobs From The Forest at Duke